Sometimes, all you need to do to build something is to use what you have. Even if you don't have the money to buy all of the necessary materials, this is a great option. If you believe this guy, you'll be able to build your own pontoon from wooden pallets. He was able take apart the pallets to use the wood. He used 55-gallon plastic bottles as the pontoon's floatation. He used the best pallet wood pieces to construct the raft. The hardest part of this project would be removing the pallets. There are many ways to make this easier. To lift the wooden slats from the nails, you can use a crowbar and a prybar.
It is not recommended that you remove the nails from the pallets as it can damage the wood and cause it to split in two. You can also remove the nails from pallets by using a hammer, although this can prove difficult. You can use a nail remover such as a hammer. This is a delicate job so be gentle. There is a possibility that you will end up with cracked or warped boards. Once you have taken down the wood pallets, you can go through the pieces and decide which ones you want to keep. You will also need to locate the pallets. You can also look online at your local buy-and-sell pages to see if they are available for donation. People will usually post them online or sell them in their community, so they don't have to haul them to the dump.
They don't have the expense of dropping off their stuff at the dump, and the materials can be used for something else than just being thrown in the trash. Some people will charge for pallets, but most will give them to you for free. You can also check with big box retailers for pallets. A lot of their orders will come in using these pallets. They may still have some. Do not be afraid to ask. Many pallet sellers are happy to give up their pallets.
A bunch of 55-gallon plastic containers will be needed. These can be purchased at gardening supply centres, home depots, or farms. You might be able even to find them for sale that have been recycled, which would be even more wonderful.
The larger boards from the pallets will be used to build the pontoon. To do this, place them a few feet apart from one another. You can then attach the pallet boards to your frame by fixing them with screws. The bins will be attached to the bottom of your pallets with ratchet bands. You can see that this larger project required 16 barrels in order to create the pontoon's floatation section. Be sure to add enough barrels to yours.
It is also evident that they were able take apart the pontoon and load it onto their truck. Then, once they got to the water, they reassembled it. They also bought a shaded tent to put on the pontoon. It's amazing what you can do with just a few recycled materials.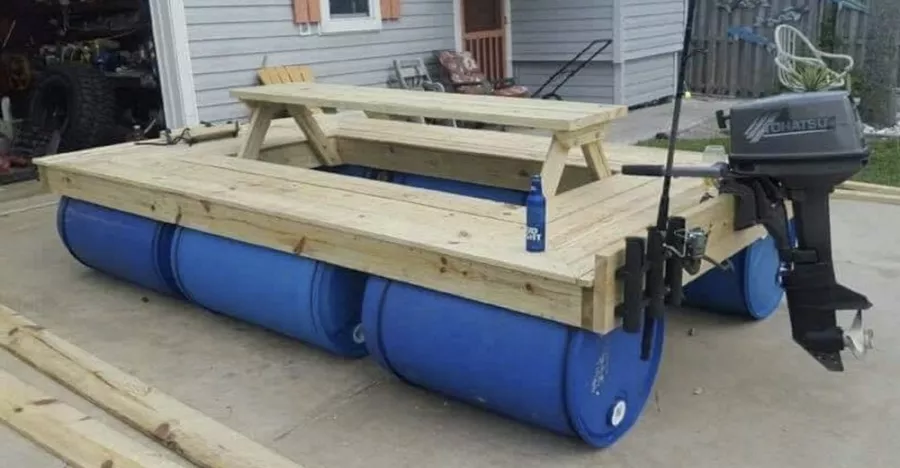 You can find more information about this story at: Imgur