Looking at log home plans and designs is fun, especially when you find really great deals on small log homes like the Courtyard cabin at $22,000.00. This is one of the many cottage plans and designs from Green Garden Chicken, a company selling beautiful handcrafted cabins and houses. All of their buildings and kits are crafted by Amish builders who are very skilled and talented in making these beautiful buildings and kits. A cottage like this cute Courtyard cabin could be built for you by a skilled contractor, or, it could be built right on your property by you. A cabin this size would only take a couple of weeks to complete, so the sooner it's ordered, the sooner it can be built and ready to use. With the cabins from Green Garden Chicken, no interior finishing is needed for this Courtyard cabin. Everything is included in the price. The cabin is 26 feet by 16 feet, with one bedroom area, a bathroom, living room and a possible kitchen area. The diagram on their website also shows this log house being used as an office building with desks and sofas placed in the different areas of the unit. The cabin is 257 square feet in total which is quite small, but it would be great to use as a small guest cottage or vacation cottage.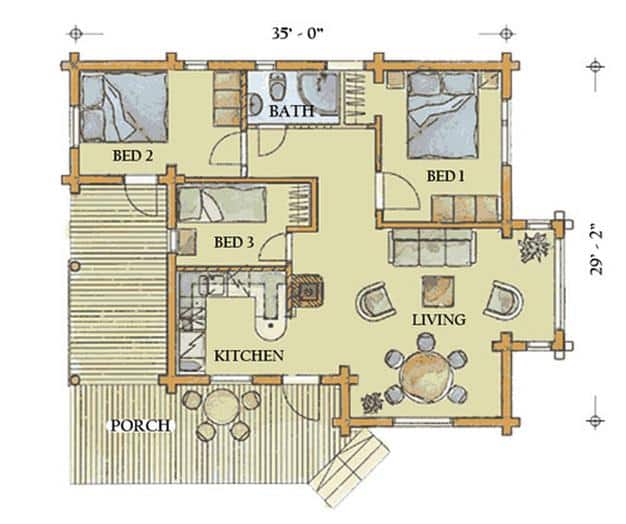 The small cottages from Green Garden Chicken are all created with high-quality Nordic Spruce timber from sustainable tree farms where five trees are planted for every tree that is used. Trees are a wonderful renewable resource providing these high-quality natural materials for us to use in building projects. Wood cabins and homes are some of the most sturdy structures known to man, they have been able to stand up to some of the most intense weather like hurricanes, high winds, and even earthquakes. Another reason why people love building with logs and wood so much is that it's an all natural building material that is healthy to live in. The wooden walls in this log house promote a sense of wellbeing and comfort; wood is generally a more sustainable and eco-friendly material to build with too. Small cottages are also a very eco-friendly option because they use less energy to heat and power them, plus they cost you less to build and less to maintain over the years. People who have always dreamed of having a little cabin could actually afford to own one at this price.
Each cabin comes with the wood to build the cabin and a covered terrace which is an optional add-on. Although it would be a nice thing to provide in the cabin to give yourself more livable space outdoors. The kits also come with the floor and roof construction materials, the pre-hung and glazed door and window, pre-assembled gables and all of the hardware including nails, screws, handles and door lock. It comes with a set of comprehensive instructions, and everything will be labelled for convenience and to make building easier. Building one of these simple cottages on your own would be very easy especially if you had the help from another person. Even if you've never built anything before and you have no carpentry knowledge, the manufacturers make the cabins very easy to assemble, so no prior experience or knowledge is needed. Although, if you do have some previous building experience you will find the process that much easier. If you have another design in mind, you can always talk to the company and see if you can customize a plan or create your own custom cottage plans.
Homeowners usually resort to add-ons or extensions on their homes, but what if adding more livable space could be easier than that? Melwood Cabanas & Garden Rooms offers beautiful small structures ranging from garden sheds to spacious small spaces that can be used as cabins, guest houses and more. The company creates their completely prefabricated buildings in Sydney, Australia and they deliver all over the country. After the home has been delivered it usually won't take more than a day to set up. Once set up, all of their buildings also have a 10 year warranty that covers both their materials and work. All of the small structures include pre-fitted insulation in the walls and the roof which means the building is protected from the elements. The nice thing about these prefab tiny structures is that they are adapted to suit your property, lifestyle and needs. They can even be delivered into tight spaces and placed pretty much anywhere on your property. They offer a few different options to suit a variety of needs including their eSpace Garden Rooms, Mod Cabanas, Porch Cabanas, Veranda Cabanas, Workshops and Work Sheds. Then, each of the designs comes in a variety of different sizes and prices. If you see a floor plan or model you love, but you wish it had more windows or maybe French doors, they can accommodate that in your designs.
The Garden Room models are designed for both recreational and living usage. The cabins can be upgraded to suit building requirements and codes for full-time living so you can live in a tiny house if you like. These also make great rental units or guest homes on your property. When you are considering what type and size of building you'd like to place on your property they can even send one of their estimators out to measure the property to assist you in making your choice. You can also visit one of their Display Centers nearest to you and see in person the size of the units so you can get a better idea of how much space they'll take up. Once you've chosen your design and the plans are finalized, the company will create your prefab cabin package, then they can deliver it and set it up if need be.
You will then have a structure that needs to be finished on the inside with ship lap interior siding or drywall. The floors will need to have flooring installed as well. All of the structures come with tongue and groove ply flooring and all of the wood is treated for termites to protect your small structure for 40 years. Their floor system use a sturdy piers that sit on a concrete footing which is finished before hand. So property owners must have their foundation ready to go before the contractors come to assemble the small structure. As you can see, there are a bunch of great designs to choose from in their collection and there's really something for everyone. They can be used for many purposes and one of their Espace Garden Room 2000 models was actually used as a Bat Sanctuary for treating sick and injured bats. Other customers have turned their garden rooms or cabanas into retreats on their property, for a place to go to have some peace and quiet. Others have made them into home offices or art studios. There are even some garden rooms that have been turned into backyard pubs and lounges so you can enjoy some drinks in the comfort of your own space with that lounge feel. What would you use one of these structures for?
More about this story can be found at: Green Garden Chicken