Discover the perfect blend of rustic charm and modern comfort with the Bear Paw model from Tar River Log Homes. This small log cabin kit, priced at an affordable $61,995, offers a unique opportunity to own a piece of idyllic country living. Let's explore the exceptional features, timeless appeal, and unparalleled value of the Bear Paw log cabin.
Embrace the Charm of the Bear Paw Model
The Bear Paw model is a testament to the beauty of simplicity. With a total square footage of 660, it provides ample space for comfortable living without compromising its cozy appeal. The cabin features two bedrooms and one bathroom, ideal for individuals, couples, or small families looking for a tranquil retreat. A porch area of 105 square feet adds an outdoor living element, perfect for enjoying serene mornings or peaceful evenings.
Quality Materials and Craftsmanship
Tar River Log Homes takes pride in using high-quality materials in their log cabin kits. The Bear Paw model is no different. It comes with a premium materials list, ensuring durability and longevity. From the hand-crafted logs to the meticulously designed corners, every aspect of the Bear Paw model reflects superior craftsmanship and attention to detail.
Versatile Log Profiles and Corners
The Bear Paw model offers a variety of log profiles and pre-cut log corners to choose from, allowing you to customize the look and feel of your cabin. Whether you prefer the traditional appeal of D-Log Chink Logs or the smooth finish of Round Round Logs, Tar River Log Homes allows you to create a cabin that suits your taste. The choice between Notch & Pass Saddle Notch and Dovetail Flat further enhances the customization options.
Package Pricing and Value
Priced at $61,995, the Bear Paw model offers exceptional value. The package includes all necessary materials and plans, taking the guesswork out of the building process. With this affordable pricing, owning a log cabin home is no longer a distant dream but an achievable reality.
The Tar River Log Homes Advantage
Choosing Tar River Log Homes means not just buying a log cabin kit; it's about becoming part of a community committed to quality and customer satisfaction. From providing a range of log cabin plans to offering home showing programs, Tar River Log Homes ensures a seamless and enjoyable home-building journey.
Transforming Dreams into Reality
The Bear Paw model is more than just a log cabin—it's a lifestyle choice. It's about embracing simplicity, appreciating craftsmanship, and immersing in the tranquility of nature. Whether you're seeking a peaceful retreat, a guest house, or a full-time residence, the Bear Paw log cabin can transform your dream into reality.
The Bear Paw model from Tar River Log Homes, priced at $61,995, offers an unbeatable blend of rustic charm, modern comfort, and affordability. Its quality materials, flexible customization options, and cozy design make it an ideal choice for those looking to experience the joy of log cabin living. Don't miss this opportunity to embark on a rewarding journey towards owning your dream log cabin.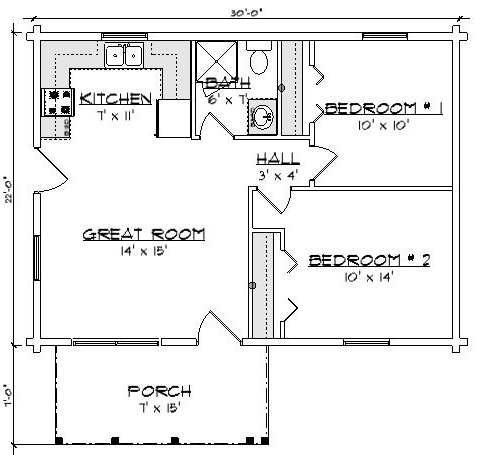 ---
Available at: Tarriverloghomes