This is a small structure house with a barn-home basis. Amish Buildings' "Gambrel Home". Many people are interested by these small homes and alternative building styles in general. Some people are looking for a rustic look, while others are concerned about the cost.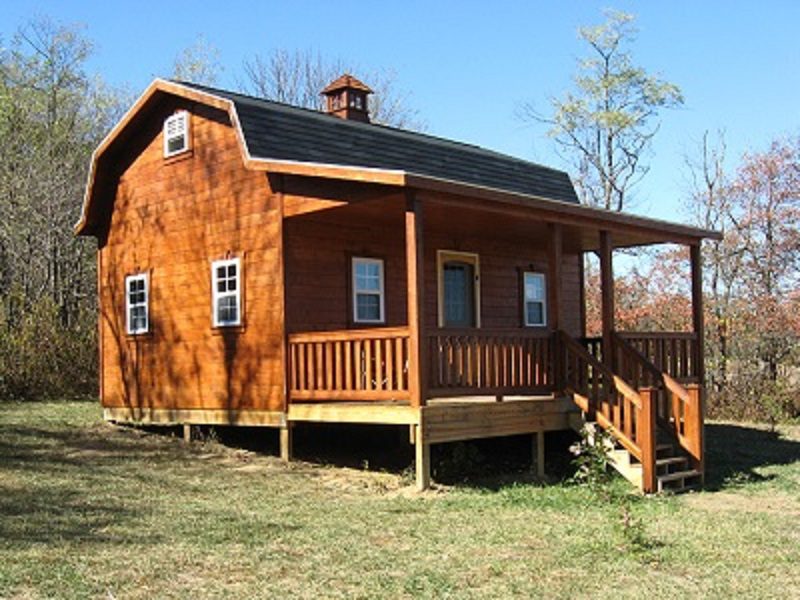 If you decide to build another house, a barn house can be used as a storage space, guest house, or even a barn. You can also ship it out so that someone else can buy it as a home. Who says you can't add a bathroom or a fridge or sink to the building later?
Gambrel Building Heights
12'W = 14'H
14'W = 14'6″H
16'W = 15′ 3″H
DELUXE GAMBREL CABIN FEATURES
8′ Sidewalls
2 x 4 Wall Framing, 16″ on center
2 x 4 Rafters, 16″ on center
CDX Plywood RoofSheathing
25-Year Fiberglass Roofing Shingles
15# Felt Paper
Continuous Ridge Vent and Soffit Ventilation Systems
Aluminum Drip Edge
2 x 8 Tongue & Groove Treated Flooring
36″ 9-lite Steel Entry Door
Lockset for entry door
1 x 4 Cedar Trim
1 x 4 Cedar Fascia Board (on Deluxe and Premier)
Porch with Cedar Posts
The gallery of photos is below. All images on our site can be expanded, including the featured photo at the top.