Châteaux Dans Les Arbres is an ideal setting for your fairytale vacation. This tree house is made of wood and handcrafted amongst the South of France forest trees. This particular tree house is just one of the six treehouses at Châteaux Dans Les Arbres and it's called Cabane Milande. Cabane Monbazillac Cabane Highefort Cabanebiron Cabane Jumilhac Cabane Piybeton and Cabane Monbazillac are other treehouses. Cabane Miandde can accommodate up to four people, making it a great place for a romantic or adventurous getaway. It is located in Nojals et Clottes in France and would be a great choice for anyone looking to spend a vacation in one the most beautiful countries on the planet. The treehouse is a magical place to visit. Everything you need to have a wonderful vacation is provided once you get inside. A large bedroom is available with a double bed, robes, and access to the terrace's Jacuzzi. This treehouse can be rented for as low as 240.00 € on low season and up to 290.00 € in high season.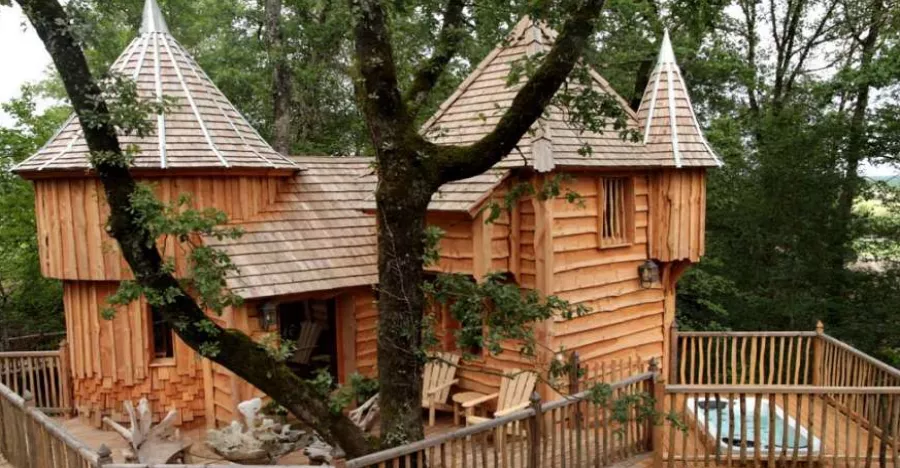 The cabin features a bedroom with double beds and a second bedroom with bunk beds. A kettle and a coffeemaker are also included. All bed linens, towels, as well as a hairdryer, are included. WiFi, an iPod/iPhone dock, a television, a safe deposit box, heating and air conditioner are all included. You can even enjoy outdoor dining on warm evenings. The treehouse is surrounded by stunning views. This is a unique experience that you'll never forget.
Cabane Hautefort is another treehouse that can house 2-6 people. This is the largest treehouse, with three bedrooms and a spa that can accommodate six people. There is also the Cabane Spa Pubeyton, which offers a sauna and hot tub for two. This one has a bedroom with a double and a bathroom with a separate walk-in shower. Cabane Monbazillac is designed to accommodate two people, making it ideal for intimate vacations. Cabane Biron, a floating cabin on water with a hot bathtub, can accommodate up to 2 people. The Jumilhac is a floating cabin with a sauna, hot tub and kitchenette. These cabins sell out quickly, and we can see why. They are so adorable!
If you have ever considered building or buying a cottage, or a cabin, then you might be interested in building a treehouse. Treehouse construction is more difficult than building a home. This is because the treehouse is built on the land and not by clearing away the trees and putting it on a foundation. Sometimes, 100-year-old trees will be included in the design of the home to allow the tree to remain alive. Treehouse construction is not only fun and exciting, but also very eco-friendly.